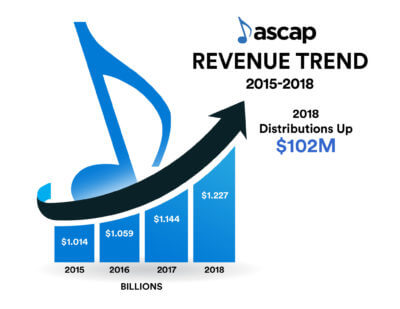 ASCAP, The American Society of Composers, Authors and Publishers, announced that its total revenues for 2018 topped $1.227 billion, an increase of 7% over 2017.  Additionally, ASCAP distributions crossed the $1 billion mark for the second year in a row, with $1.109 billion in royalties paid out to its songwriter, composer and publisher members. Distributions increased by $102 million, up 10% year-over-year.
ASCAP domestic revenue from US music licensing surpassed the prior year by 7% to hit $906 million.  Key licensing categories saw significant organic growth:  Audio Streaming revenue was up by 25% and Audio Visual by 7% year-over-year.  General and Background revenue, which encompasses more than 800,000 bars, grill
  Mass Appeal, the urban culture-focused media and entertainment company, and Universal Music Group (UMG), the world leader in music-based entertainment, today announced the companies have entered into a multi-year global agreement. The deal encompasses...
Sony Music Entertainment has entered into a strategic partnership with Jonathan Master, the innovative A&R and marketing entrepreneur who has worked with artists including Logic, D.R.A.M., G-Eazy, Cam'Ron, PJ Morton and Grammy-nominated...