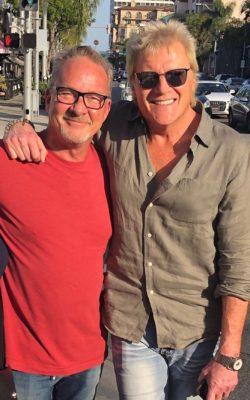 CUMULUS MEDIA announces that one of the most decorated morning shows in radio history, the legendary Mark & Brian Radio Show will return for a one-time only, KLOS 50th anniversary reunion show on Thursday, April 25th from 3:00PM to 7:00PM. Joining Mark & Brian for this landmark radio event will be family members, Todd Donoho, the Commissioner of Sports; and Chuck Moshontz, Spectrum News 1 –  News and Views.
KLOS Program Director and Cumulus Media Rock Format Captain, Keith Cunningham said: "We're stoked that Mark & Brian have agreed to get the band back together to celebrate the 50th anniversary of KLOS. If not for the Mark & Brian Show, KLOS may not have reached the 50-year milestone. The show is an enormous part of the brand's history, and the 25th will be an epic day for Southern California radio listeners."
In addition to doing their show live on 95.5 KLOS from 3:00PM to 7:00PM on April 25th, Mark & Brian will make a guest appearance on KLOS's market leading morning show, Frosty, Heidi & Frank from 9:00AM to 9:30AM, as well as do interviews with 790 KABC's John Phillips & Jillian Barberie at 9:45AM, and Dr. Drew and Leeann Tweeden at 2:30PM.