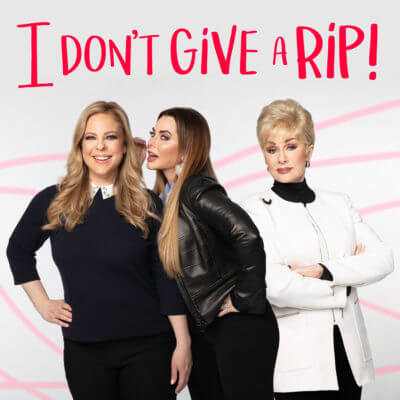 YEA Networks, one of the top independent radio and podcast companies in the U.S., announces the launch today of a new lifestyle podcast from the world of reality television, I Don't Give A Rip, featuring "bigger than Texas" personalities D'Andra Simmons, Momma Dee Simmons, stars of Bravo's Real Housewives of Dallas, along with TV personality Amy Vanderoef. I Don't Give A Rip will take their passionate fans into the deep, with real conversations on relationships, sex, parenting, money, business, fashion, nutrition and wellness, and more, with real conversations that help listeners to know they are not alone in their daily challenges and to learn to let go a little and enjoy their best lives… and they'll even reveal some of their in-demand favorite recipes! This marks the thirteenth original content podcast from YEA, which also produces and syndicates The Kidd Kraddick Morning Show and Tino Cochino Radio.
When asked why she is doing the podcast at this stage in her life, Momma Dee Simmons explained: "Because I'm going to teach listeners to be happier than a tornado in a trailer park! I'm also going to teach them there are 3 types of people in their life."
D'Andra Simmons commented: "My mom thinks she knows everything. I'm here to set her straight. My mouth is unfiltered and so is this podcast! I'll be sharing all the feels and all the reals and occasionally I'm hilarious…just sayin!"
Amy Vanderoef added: "As a television host, I enjoy generating real conversations, and there are plenty of fans of this mother and daughter duo who'd like to hear what they have to say. Not many podcasts star a 78-year-old! We are going to share personal stories to help others. You need to reveal to heal."
I Don't Give A Rip is available now on Apple Podcasts, Google Podcasts, Spotify, TuneIn, Audioboom and other podcast services. New episodes are available Wednesdays at 10am CT.